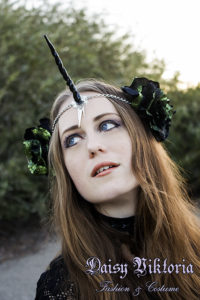 Daisy Viktoria is an award winning fashion and costume designer. Daisy learned to sew at a young age and spent much of her childhood playing make believe and creating costumes for herself and her dolls. Daisy also grew up in a family of historical reenactors. She learned a lot of sewing techniques through fashion history, and she still plays in the SCA to this day! Daisy has also been a cosplayer and attended anime and fantasy conventions since she first heard about them in college.
Daisy has designed and created hundreds of corsets of all varieties, as well as hundreds of costumes and gowns ranging from modern Fantasy Couture to Historical. She specializes in corsetry and bridal gowns with a historically inspired fantasy touch.
Something that sets Daisy apart from other fashion designers is her college degree. Daisy has a Master's Degree in Chemical Engineering from UCLA. Her undergrad is also in ChemE with a minor in Chemistry from the University of Florida, where Daisy graduated Summa Cum Laude, the highest honors.
Daisy Viktoria has been featured in various print and online magazines, as well as blogs and social media. Her designs have graced the runways throughout Los Angeles and southern California, at fashion week events and fantasy conventions, and even Dragon*Con in Atlanta! These are some of the magazines where Daisy's work has been featured: Gothic Beauty, Dark Beauty, FAE, Von Gutenberg, Linger, Vedere, Rebelicious, Petite Alternative, Like A Lion, Tinsel Tokyo, Avant Garde, Cloud Orchid, Raine, and Hardcore Gamer.
In her free time, Daisy enjoys connecting with nature. She loves running, hiking, and backpacking. In addition to fairytales and mythology, Daisy finds a lot of inspiration in the outdoors and on nature trails.
For custom inquiries, rental fees, or bookings, please send Daisy an email. daisy@daisyviktoria.com
You can also visit Daisy's online shop for some readily available products:
Daisy Viktoria Web Shop
You can follow Daisy's social media to keep up with her design adventures!
http://facebook.com/daisyviktoria
http://twitter.com/daisyviktoria
http://instagram.com/daisyviktoria
http://youtube.com/daisyviktoria
http://pinterest.com/daisyviktoria